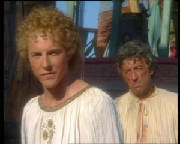 There are three main reasons I love Sam, (I'm not one of those gushy women who'll spend hours swooning. They are very practical reasons and only the last one is vaguely swoonish.)
1. King Caspian, the whole Narnia series dominated my childhood (it came out in '89 and i was only 4 but we had it on video!) So he was the first great 'King' in my life and they all swanned around and had adventures which was all i wanted to do. I wanted to have adventures, be it Narnian, Famous five, Swallows and Amazons or the Railway Children, everyone was having adventures.
2. I had to study Birdsong by Sebastian Faulks for my A level English Lit. what's Sam gotta do with that? He did the audiobook, and i got it as an aid to revision. And I got a high B for it!! RESULT, sitting on my arse in the May Sunshine of 2003 listening to Sam was my type of revision.
3. Beware of gushing, Curly hair, there is something very cute and also unthreatening about men with curly hair. Saying that, his character Thomas Rice had curly hair, and he was a mass murderer, but the hair lured the women, I'm sure of it... Think about someone who has curly hair... Michael Ball, Ryan Giggs they're all pretty unthreatening, someone's gonna tell me that jack the ripper had curly hair now aren't they?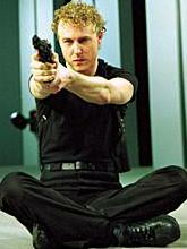 yes he's got a gun, but look at the hair!!!